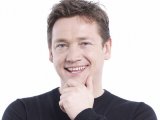 Potato brained Ricky Butcher's return to Albert Pentagonal was watched by 10.3m viewers with sod all else to do last night.
The old and withered butthead, played by Sid Owen, turned up ahead of the funeral of his father Frank during last night's 8pm EastEnders in a hope of getting off with Peggy
The show won 43% of the audience, was up on the 9.2m (39.6%) slot average and was the day's most watched programme apart from Hamd O Nath, an Islamic Gay soap opera shown on Bangla TV which attracted 10.4 million viewers, 10.39 million of which were too scared to admit it lest they got another stoning.
Coronation Street, which fails to ridicule northern people and features the anti-christ David Platt came close and was watched by 10.1m (45%) for its 7.30pm instalment and 10m (41%) for the second at 8.30pm. 100,000 people obviously thought the 1st instalment was bollocks and decided not to bother after that.
After a short period of Doggies BBC One was back on top at 9pm when 5.5m (24%) saw Crimewatch wearing a slit eyed mask hoping they wouldn't be recognised, with 4.5m (20%) forgetting to watch The Fixer on ITV1.
BBC Two took third place with 1.6m (7%) tuning in for Alternative Therapies for an hour, while Channel 4 was close behind with an audience of 1.3m (6%) from 9-10.45pm who, because the channel had broken down, spent 1h 45m watching a static screen with only a notice that read
"Channel 4 is experiencing some technical difficulties and will be for some time. if you are still watching this in 10 minutes time may we politely suggest you are a twat"
and a soundtrack consisting of a 20 second looped portion of Murder on the Dancefloor by strange but sexy Sophie Ellis Bextor.
Absolutely no one watched Five's cooking competition "Breaking Into Tesco" over the hour from 9pm. This was a good result as it was 30% up on last week. An insider at Ch5 said that it was a good job that audience figures were zero as they had forgotten to turn the transmitter on after Natasha Kaplinksy had walked into the station office with her flies undone and caused a bit of a fracas.
In other news 14 lemmings were learning to cross stitch. We think? Or was it 13 ??