Tina O'Brien: 'I would never get married'
Posted:
Fri Mar 28, 2008 6:56 am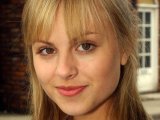 Oh diddums! Tina O'brien, former Corrie star has fabricated some bullshit that her reluctance to wed is down to her soap character Sarah Platt's marriage woes. Industry insiders proclaimed this as beign complete crap and urged her to stop the false PR as it's preventing her from getting work after Coronation Street.
In an interview with the terrible Reveal magazine, Tina admitted: "I would never get married now - I've done it twice on Corrie and that's enough! I'm happy with the way my life is and don't want to change anything. marriage is for dorks and religious nutters!.I'm anti marriage. it's only a worthless piece of paper!, she said.
O'Brien, who has been seeing her former co-star Ryan Thomas, who attempts to play corrie macho roughnut Jason Grim(shaw), on covert outings to Manchester's finest DIY shops, added: "I love Ryan to bits, but we are very young and stupid. We don't know what is going to happen and are just happy to go with the flow. I'm also due on in a couple of days so that may account for the lack of decorum"
The 24-year-old is rumoured to be making a "gradual return" to the soap after finding it difficult to get work since leaving last year. This of course involved shagging 3 consecutive Corrie scriptwriters. Tina fell for Ryan on the set of Corrie in 2004. he was reluctant at first saying that although she was 20 years old at the time she only looked nine and he didn't want to be accused of paedophilia. An insider refused to keep silent and said nothing.