Anyone

still

use Teletext?
I can remember the time when it was exciting!!!
Teletext switches off early around the UK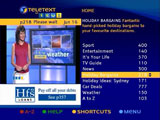 Teletext

The Teletext information service has been switched off today on UK analogue and digital television, earlier than the initially scheduled January 2010 closure.
The news and information platform has ceased running on ITV, Channel 4 and Five on analogue TV, along with ITV and Channel 4 on Sky and Freeview. All editorial services on Teletext Extra are also no longer available on Freeview and Freesat.
However, Teletext Holidays will continue to run on Freeview channel 101 and the commercial channels from 102 to 107 will also remain on digital terrestrial television.
Analogue Channel 4 will still carry the Teletext Racing and Bookmakers section so that viewers can access the latest racing news and results. Channel 4 viewers on Sky and Freesat will be able to access an analogue form of the service "in due course".
In June, Teletext owner the Daily Mail and General Trust confirmed plans to close the editorial service, which had continually made a loss over the years.
The move was initially due to go ahead in January 2010 but was moved forward to "allow the process to be as smooth as possible on all platforms, technically and operationally".
Teletext's profitable travel websites - teletextholidays.co.uk, thisistravel.co.uk, inluxury.co.uk and villarenters.co.uk - will continue to operate, along with the teletext.co.uk/gamecentral service.
Anyone who subscribed to SMS alerts from Teletext will continue to receive the messages "beyond December", and analogue subtitles on page 888 will also remain available.