Tracks from the new Amy Winehouse album have been described as "suicidal", The Sun claims.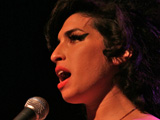 Four tracks have already committed harikari under the wheels of a number 7 bus, and a fifth has stabbed itself in the knee cap but so far has failed to kill itself.
Winehouse is working on her third record with producer Mark Ronson but has allegedly become reclusive due to a skin infection and a broken brastrap.
A source revealed: "Her next album is darker than ever. And the last one was black. Amy's got low self-esteem anyway but her brastrap has made her want to hide away from the rest of the world. And we have started noticing more and more sleeves on her arms.
"Her problems are pushing her over the edge and she's turning into a depressed recluse. It's not good for her to stay in so much. People try to get her to leave the house and tell her not to worry about what people say." said a couple of insiders who were on the outside. " But she'd rather sit around her dingy flat all day writing about death while being dead"
The source added that Winehouse has written much of her Back to Black follow-up already.
"[The new album], which is strangely encased in square brackets, is very, very very dark but she produces some of her best music when she's dead - and the broken brastrap has been hell for her.
"She might have all this fame and wealth but she's never been so down as she is now." said the insider. "we think she's giogn to shoot up again. That always gets the tabloids salivating"
Eamon Holmes said he thought Winehouse was doing rather well with decorating the kitchen and has even seen her new sponge.