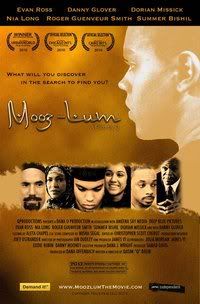 http://moozlumthemovie.com/moozlum/
ABOUT
In Theaters: 2.11.2011 (February 11, 2011) in the following cities:
Atlanta
Chicago
Dallas
DC
Detroit
Houston
Los Angeles
New York
Philly
San Francisco
Follow this link to see the details for each city:
http://www.facebook.com/note.php?note_i ... 1654622305
We're making a movie that we hope will offer a different perspective on Muslims/Islam than what is normally portrayed. As a result, opening the minds & hearts of millions.
With your help we will create a grass roots marketing campaign that will ensure the success of this film before it's release.
This page is yours as much as it is ours. We want all of our supporters to get involved and make this a vibrant, interactive and fun journey to the finish line… And when the movie does come out, it will be a win for us all.
The crew behind this film consists of many different religions, cultures & nationalities. We're not trying to push anything on anyone… We just have a story to tell.
THEATRICAL TRAILER
I'd like to see this, so if anyone comes across a means of viewing it in te UK can you pm me please?
Thanks
GG