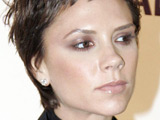 Miserable Stick

Skeletoral Misery Victoria Beckham who first rose to fame in the spice girls as one of the members who couldn't sing has denied accusations that she is constantly craving attention from the media and public.
The former Spice Girl insisted that her family lives a quiet life in Los Angeles. David isn't allowed to speak.
"We lead our lives in a much more low-profile way than people think. I'm not going to The Ivy in Beverly Hills. I don't think I've been to a premiere since we moved there," she told The Times as she headed off for an appearance at a opening of a leading Beverley Hills Designer Boutique.
"We're not courting fame. I can give you a list of numerous restaurants that have underground parking so no one can get any photographs. We may visit them"
Beckham also revealed that she has struggled to make friends over the years.
"I don't really care what people think. I never made friends easily bitch. For years, when I was in the Spice Girls, those were my four best friends. Now I've got David," she allegedly pouted.
Rebecca Loos and another girl who actually had a feminine figure were unavailable for comment.