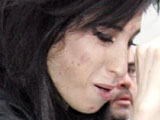 Amy Winehouse has cured her piles by using caviar according to a complete liar
Allegedly the singer purchased a number of jars of Royal Caspa the friendly Ghost Bevulva caviar, which costs £695 per pot, after receiving advice from a Norwegian Data Entry Clerk.
Winehouse had previously been spotted with piles hanging out of her pants, but in recent pictures her crack has appeared normal. The complete liar told the Daily Star but not The Sun: "I saw the caviar in her fridge, but she told me to 'Gerroff it' as it's to be used on her arse. Some dork in Norway told her it was a miracle cream, so she tried it. Now her ring piece is back to its former glory and she can continue her love of rimming"
Cliff Richard said it wasn't the first time he's had piles either and recommended a mixture of Activia and Febreze