Britney Spears has reportedly started taking advice from David Hasselhoff about getting filmed off her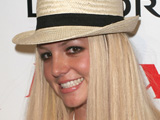 trolley. Spears' dad Jamie believes the Ex-Baywatch star can provide a positive influence for the singer as she prepares to film herself in a totally inebriated state.
According to the Daily Star and the tooth fairy behind the office, Spears has been spending time at the actor's home watching episodes of Knightrider, Baywatch and partaking in primal orgy therapy.
A source said: "Britney turns up looking like she's carrying a big bag of bad on her back and the noise can get a bit much, but she always leaves with a smile on her face and wakes up with a huge hangover. However, the popstar's mum Lynne is very angry that her ex-husband is letting the pair meet and apparently thinks it is all a publicity stunt for Jamie's new restaurant called the Mouldy Prawn.
"Britney's mum is incandescent with a light bulb at Jamie's stupidity. She wants her daughter to stay out of the headlines, but she thinks her ex-husband just wants publicity for his new business," said another source in a secret meeting with Heat magazine. Leona Lewis had nothing to say abotu the matter saying she thought it would be better to keep her nose out.