Dancing on Ice winner Suzanne Shaw is planning to tie the knot with her boyfriend Jason "JK" King. The former Hear'say singer and hot bit is hoping to marry DJ Jason and his mate at a "glitzy" summer ceremony next year, weather permitting.
Friends have revealed that Suzanne is thrilled to have found happiness again after the heartbreak of her experience with Darren Day whose shagged most women in britain except me.
Darren dumped her after she gave birth to their son, Corey. "Suzanne has been on a complete high since winning the show and gaining a substantional fee for her appearence,"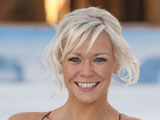 a source told the Daily Star Sunday through the mediation of a masked insider. "She's been with JK for almost three years and they're very settled. They're in no rush to get hitched and both agree that next summer would be the perfect time. Although if something good is on the telly they may not bother.
"Suzanne knows exactly what she wants for her big day and subsequentwedding night and it's going to be a very coke fuelled affair. After Darren she never dreamed she'd find sucha large penis again, let alone want to get married. But Jason is perfect for her and hasn't punctured her cervical walls yet. He's a brilliant dad to Corey and they're a very happy family. Except when Suzanne has PMT when the atmostphese in the house is OK DAMMIT!!!