Jack Twat takes

£15k

watch into Jail!
Yeah yeah it's nonsense story, but none the less .....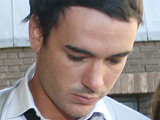 Jack Twat

Jack Tway has handed his £15,000 Rolex over to prison bosses after fellow inmates launched a plot to steal it, a report claims.
The 21-year-old had apparently been wearing the watch as a tribute to his late wife Jade Goody, who purchased it for him as a final present before she died.
A source told the Daily Star: "At first Jack refused to hand over the Rolex because of its sentimental value. It was a last present from Jade - a reminder of the good times they had.
"But he was warned by governors that inmates were plotting to nick it. The information came from trusted lags with good jail jobs. They told the governor to take it away or Jack would not be wearing it by the end of the day."
Twat is currently serving time at Edmunds Hill jail in Newmarket, Suffolk after being sentenced to 12 weeks behind bars for assaulting a taxi driver.
Goody passed away on March 22 following a battle with cervical cancer. She was 27.
-------------------
Seems like a load of nonsense to me. I always thought people's possessions were confiscated upon entry to jail and returned upon release.