Kerry Katona is being

destroyed

By Mark Croft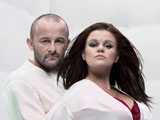 Couple of twats

Kerry Katona's former nanny has said that Mark Croft is "destroying" the former Atomic Kitten singer.
Pat Ferrier, who is also Katona's stepsister, told Heat that the star's life and relationship with husband Croft reflected her difficult upbringing.
Ferrier said: "I've done all I can to help Kerry and I will always be there for her, but she is totally blinded by Mark and until she leaves him she is beyond help.
"Mark is totally destroying her. I look at Kerry and her eyes are dead. She isn't living, she just exists and that's sad to see. She just wants to be loved."
She added: "She is so insecure because, for all of her early life, she was moved around and taken away from people who she loved.
"She will sit drinking cheap Lambrini in her room or sleep all day if she is feeling low. This can go on for days."
At the weekend, reports emerged that Katona had suffered a breakdown as a result of her alleged financial difficulties and problems with Croft.